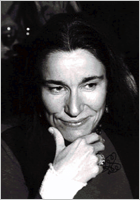 Claudia Mueller-Ebeling, Ph.D. (born 1956),
studied history of art, cultural anthropology, German literature and indology in Freiburg, Hamburg (Germany), Paris (France) and Florence (Italy). Received her Ph.D. by a doctoral thesis on visionary art and French symbolist Odilon Redon.
Her main focus of interest being visionary art, altered states of consciousness, shamanism and ethnobotany.
Did fieldwork on the knowledge of healing plants in the Caribbean (Guadeloupe) and the Seychelles. As well as a longterm study (18 years) on Shamanism in Nepal combined with expeditions to Korea and the Peruvian Amazone.
Worked as arthistorian in the Museum of Arts and Crafts in Hamburg, was chief-editor of DAO a magazin on far eastern philosophies and martial arts.
Co-author, with Christian Raetsch and others, of "Witches Medicine" (published in German 1998), "Shamanism and Tantra in Nepal" and Lexicon on Aphrodisiacs (to be published in German in 2002).
Is member of the board of advisors of the "European Colleague for the Study of Consciousness" (ECSC) and co-organizer of "Psychoactivity"-conferences on altered states of consciousness.
Lives as freelance scientist and author in Hamburg, Germany.